I LOVE boneless buffalo wings (BBW's)!  To give you an idea of just how much I love BBW's, here's an example: when I was 16 to maybe 20, my friends and I would go out to Applebee's and get their b1g1 appetizers. Generally, there were 4 of us, so if we were hungry, we'd get 4 appetizers and share. I usually ate most of the BBW's. If I wanted to, I could eat a whole basket myself (healthy, I know). These days, I could still do this, but I'm cheap and somewhat healthier.
This weekend, as Peter was contemplating what to make for dinner (he cooks on Saturdays – yes, I am blessed), I told him I wanted something "unhealthy". Something like chili cheese fries, a chili cheese dog, or boneless buffalo wings. After some deducing, we decided upon the BBW's. Peter used 2 boneless, skinless chicken breasts, then breaded them with half of Jeff Mauro's breading recipe (here) and baked them. (Making "unhealthy" things at home allows you to make them healthier.)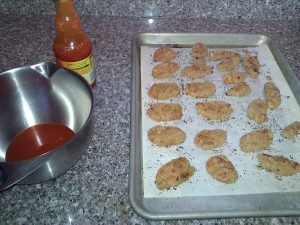 After baking, he sauced them with some Frank's Buffalo Sauce. With a side of blue cheese dressing, they were AMAZING!!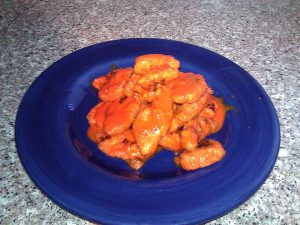 And yes, he is a good great husband!